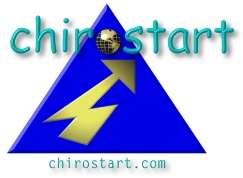 The original Canadian chiropractic business web site designed by chiropractors for chiropractic students, new chiropractors and associate chiropractors. The mission of this web site is to educate its visitors on all aspects of chiropractic business, a lot of which is not available at chiropractic colleges today. This web site is designed to save chiropractors significant time and money when starting out in practice. It provides hard to find valuable information, and will eliminate many common, and expensive mistakes made by chiropractors when starting out. This will give its visitors a much-needed competitive advantage as they enter the increasingly competitive health care industry in the new millennium.

We teach our therapists special "blueprint" exercises designed just for them to help strengthen and correct their own unique problem. These exercises can be performed in the comfort of your own home and can improve the effectiveness of your spinal correction by as much as 30-40%. In addition to skeletal misalignment, muscles and connective tissues can be out of place or strained by improper alignment and use. Specific exercises and stretches can help your body stay in balance and in health.

We takes great pride in providing the finest chiropractic wellness care to his patients. Below is a sampling of the different chiropractic services we offer.
Chiropractic
Physiotherapy
Massage and Medical Massage
Cold Laser Therapy (K-Laser)
Corrective Exercises
Kinesio Taping
Cervical and Lumbar Traction
Acupuncture
Nutritional Counseling
X-Ray
Soft Tissue Techniques
Lifestyle Advice
News

Manitoba chiropractors and government reach new 4 year agreement.
Coverage of $8.00 per visit for 12 visits in the first year.
Coverage of $9.00 per visit for 12 visits in the second year.
Coverage in years 3 & 4 to be determined by a 3-member panel.
Manitoba NDP government reduces chiropractic coverage
from $11.56 per visit to $8.00 per visit for adults and
from $11.56 to $0 for all under 19 years of age.
This effective July 1, 2002.
BC government eliminates provincial health
coverage for chiropractors as of January 1, 2002

Contact Information
Address:
578 Broadway Avenue
Winnipeg, Manitoba R3C 0W5
Canada
Phone:
204.947.1277
Toll Free:
204.781.7462
Fax:
204.774.1732
E-mail:
drmorrow@chirostart.com